CHRONOZ HOTEL BOOKING ENGINE
Setup and configure Chronoz Online Hotel Booking Engine is easy.
Chronoz integrates seamlessly with the property website, enabling website visitor to book room, packages, and other services directly from your website.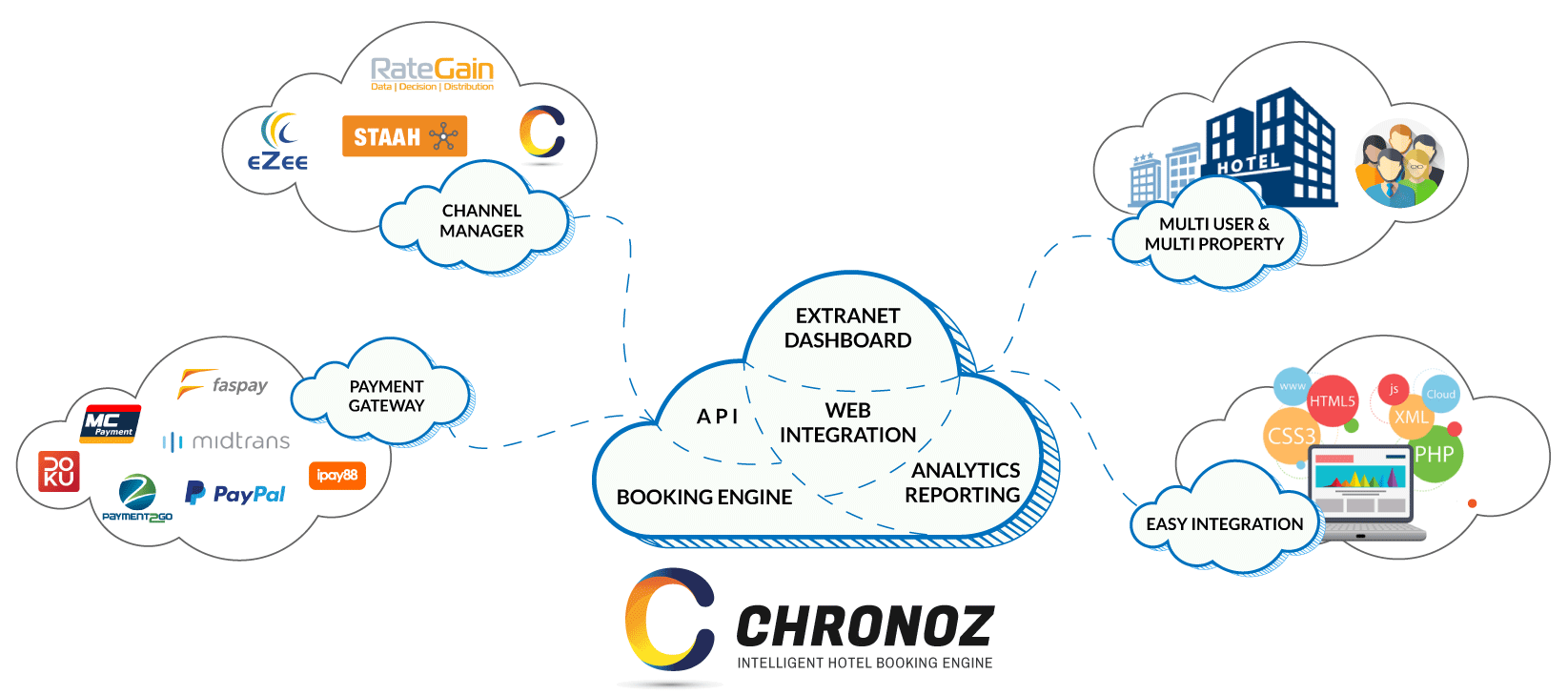 HOTEL BOOKING ENGINE FEATURES
Engage, empower and convert your website traffics into confirmed booking.
EXCLUSIVE HOTEL BOOKING ENGINE
RUN EXCLUSIVELY WITHIN HOTEL WEBSITE
All booking process run inside your website, no more redirection. Increase visitor trust and convert traffic into confirmed booking instantly.
USER FRIENDLY, FAST & POWERFUL
EASY INSTALLATION & GUIDED BOOKING
Chronoz plugin easy to install and integrate to any website, can be easily customize according to every property needs. It's fast and intelligent to offer the best package for your guest and guide them thru the booking process.
FULLY AUTOMATED BOOKING ENGINE
LET SYSTEM DO THE HARD WORK FOR YOU
Fully automated Hotel Booking Engine that work 24x7, it's handle all booking process and payment, send the booking confirmation etc...  while you're sleep.
Along with detailed reports of all booking operations, the booking system provides you a statistical summary in form of graphs right on the dashboard, for you to oversee ongoings at your property. Additionally, the system records each transaction along with user details.
MULTI PROPERTY & MULTI USER
MANAGEMENT MONITORING & CONTROL
Now Property Management can easily monitor and control multi property from single login dashboard, while every single property can still have their own login dashboard.
PAYMENT GATEWAY, CHANNEL MANAGER & PMS, ETC
Chronoz Hotel Booking Engine connected to well known payment gateway,  channel manager and Meta Search.
A total control within your hand. Can't find your favorite payment gateway? Contact us for rapid integration.
CHRONOZ ADVANCED FEATURES
TAKE CONTROL OF EVERYTHING
Create unlimited promotion, define your own cancellation policy, rates, inventory, personalization email, define your search layout etc, all  from you extranet dashboard and let system do the rest.
DECIDE WHAT AND WHEN TO SELL
A simple and easy to use promo tools allow you decide where and what to sell during specific period or time. It's also allow you to promote different extra services for different promo.
GUEST TARGETING BASED ON GEO LOCATION
Create different promotion and pricing based on the visitor geo location, drive more sales from the most favorite countries.
Create your own code, define the specific time of use and how many times it can be used etc. Once it's ready distribute your code thru newsletter or social media to generate direct booking.
EARLY BIRD & SPECIAL DEAL
Sell room or packages in advance, perfect for special holiday or special events. Combined with Special Deal and create hard to resist promotion for your guests.
SPECIAL OFFERS IN LAST MINUTES
Give extra discount in last minutes, maximize your property occupancy and revenue. Apply different Last Minute offer to in different time or promo.
MULTI CURRENCY WITH CURRENCY EXCHANGE
Chronoz is Multi Currency ready, you can have different currency for each property you managed, everything will be converted to your defined local currency. Chronoz build in with the Currency Exchange.
EXTRA SERVICE & SURCHARGE
UPSELLING & SURCHARGE FEATURES
Ability to offers different Extra Service and assign surcharge based on date or days.
Never loosing business opportunity again.
DISTRIBUTE PROMOTION EASILY
Distribute promotion easily using Promo URL, insert the URL Link of your promo to the newsletter, distribute to the social media such as facebook, twitter, instagram etc... to drive more direct booking.